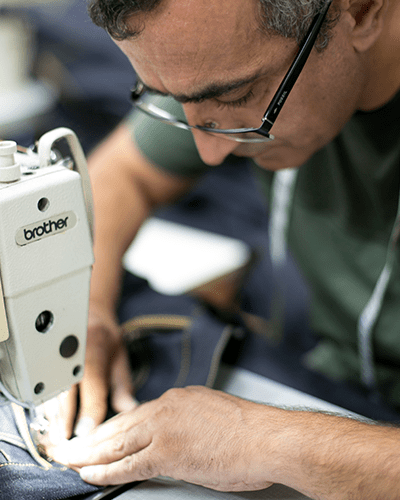 Eye for detail  |  Meticulous  |  Efficient  |  Methodical
A Sewing Machinist uses stitching skills to create sewn products, from fashion accessories to medical textiles. Sewing machinist skills are fundamental to production across the industry. They need to work quickly, using specialist industrial machinery, have an eye for detail and be able to follow instruction.
Sewing Machinists can produce a wide range and variety of products from clothing and fashion items to leather goods, soft furnishing, knitwear, marine and medical textiles. They can work alone or as part of team, on one aspect of sewing the product or on various operations. Whatever the product, Sewing Machinist skills are highly valued and fundamental to the sewn product manufacturing process.
Organise and maintain of an efficient workstation​
Operate specialist industrial sewing machines​
Work with a variety of materials, threads and trimmings​
Use given sewing production techniques and methods​
This job may also be referred to as Seamstress or Machinist.
Sewing Machinists can be employed by large, medium, small or micro size business. They can be based in a design studio, workshop or on a factory production line, depending on the size of the business.
For a typical working week of approximately 39 hours:
A sewing machinist starting salary on average is £19,500 per year
An experienced sewing machinist salary on average is £21,000-£25,000 per year
Pay rates vary depending on experience, location and the size of the company. Additional benefits may include pension and health care. Many companies offer overtime, bonuses or piece rate in order to meet deadlines.
Will you need qualifications or training?
Experienced is preferred, however some employers will offer training for new sewing machinists and qualifications are not required. Training is delivered on the job, either on the production floor or in a training section.
A Sewing Machinist Apprenticeship is also available for those wishing to train on the job.
Qualifications and short courses relating to this job role are offered by a number of awarding organisations and training providers.
Find out about similar jobs
What are the career prospects?
Experience could lead to a sample machinist, team leader, supervisory or quality control role, or a career in staff training or product technology. Self-employment and freelance work from home is also an option for sewing machinists with significant experience.
Why work in fashion manufacturing?​
The UK fashion manufacturing industry is in high demand and a steady growth is predicted to continue, with multiple factors responsible – the rise of fast fashion demanding a responsive, local supply base; a rapid move towards demonstrating a transparent and ethical supply chain and an increasing consumer led demand for 'Made in the UK'.
Although the UK has a well earned reputation for high-end, small volume production, the sector also supplies high street retailers demanding higher production volumes and shorter lead times.
The fashion manufacturing industry relies on skilled individuals, trained to a high level and research indicates there is a need for thousands of new entrants.
Wage information correct at date of editing, March 2023.
Get inspired by manufacturing
This website uses cookies to improve your web experience.