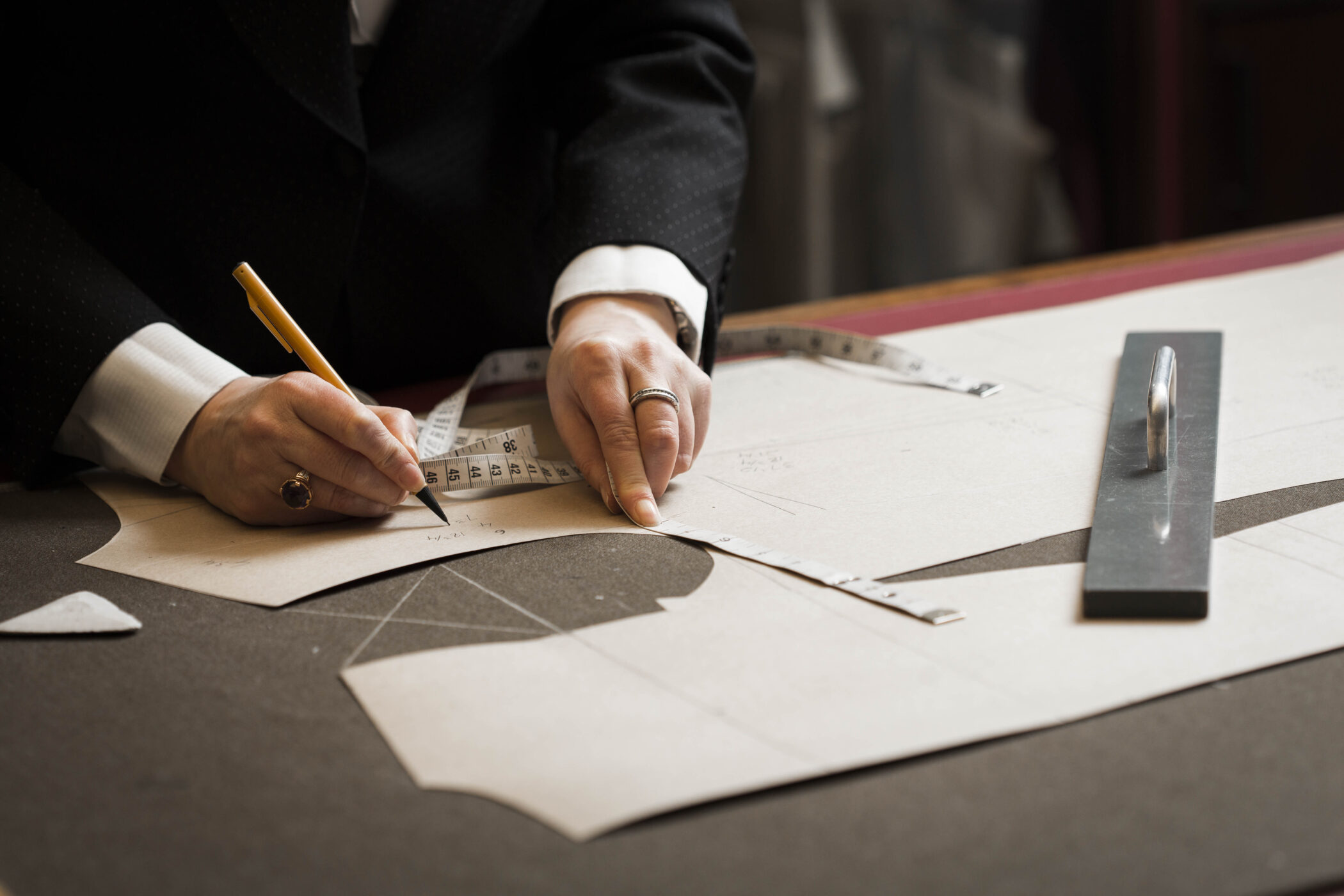 Precise  |  Technical  |  Personable  |  Eye for detail
A Bespoke Cutter is a qualified artisan who creates the pattern and cuts tailored garments for an individual. They work with great precision, to a high standard of excellence. Bespoke Cutters need to be precise, have an eye for detail, a technical approach and good communication skills.
A Bespoke Cutter is involved in liaising with clients to ascertain their individual requirements. They advise clients on the style, cloth and trim of their garment and have overall responsibility for the order. They construct the garment pattern and cut the components ready for assembly by the Bespoke Tailor. They also conduct fittings and record customer feedback as appropriate.
Measuring and analysing figure variations
Carrying out client fittings
Constructing garment patterns
Laying, marking and cutting cloth
Organising and purchasing materials
In bespoke tailoring a jacket is referred to as a 'coat'?
A Bespoke Cutter is usually based in a workshop within a tailoring house. The workshop is often attached to a shop where the tailoring service materials and accessories are displayed, and business and fittings take place. The workshops are usually well lit, and contain specialist equipment, mannequins and a cutting table. There are many tailoring houses across the UK and some offer a travelling tailor service, giving employees the opportunity to work abroad, particularly in cities such as New York, Paris and Milan.
For a typical working week of approximately 39 hours:
A trained Bespoke Cutter salary is on average £24,000 to £30,000 per year
An experienced Bespoke Cutter salary is on average £30,000 to £50,000 per year
Pay rates vary depending on experience, location and the size of the company. Additional benefits may include company discounts, pension and health care. Many companies offer overtime and bonuses in order to meet deadlines.
Will you need qualifications or training?
To become a Bespoke Cutter an intensive programme of training is required. This career typically starts at apprentice level and the length of training varies depending on specialisms, 4 to 6 years is recommended for those specialising in cutting.
An Apprenticeship in Bespoke Tailoring and Cutting gives an excellent grounding and professional experience in bespoke tailoring roles.
Qualifications and short courses relating to this job role are offered by a number of awarding organisations and training providers.
What are the career prospects?
With experience, a Bespoke Cutter could become a Head Cutter or a Senior Cutter within a tailoring business, develop a new business or become self-employed, working on a freelance basis. Alternatively they could move into supervisory roles, production management or training.
The UK has a well earned reputation as the home of tailoring with British tailors dressing everyone from royalty to rock stars across the world. Tailoring is an industry steeped in tradition and heritage and in it's nature is a part of the slow fashion movement.
Training to work as a skilled craftsperson is extremely demanding. There are many specialities within the trade from coat makers to cutters and hand finishers. Savile Row is a world renowned centre for tailoring but there are exciting opportunities across the UK.
Wage information correct at date of editing, March 2023.
This website uses cookies to improve your web experience.