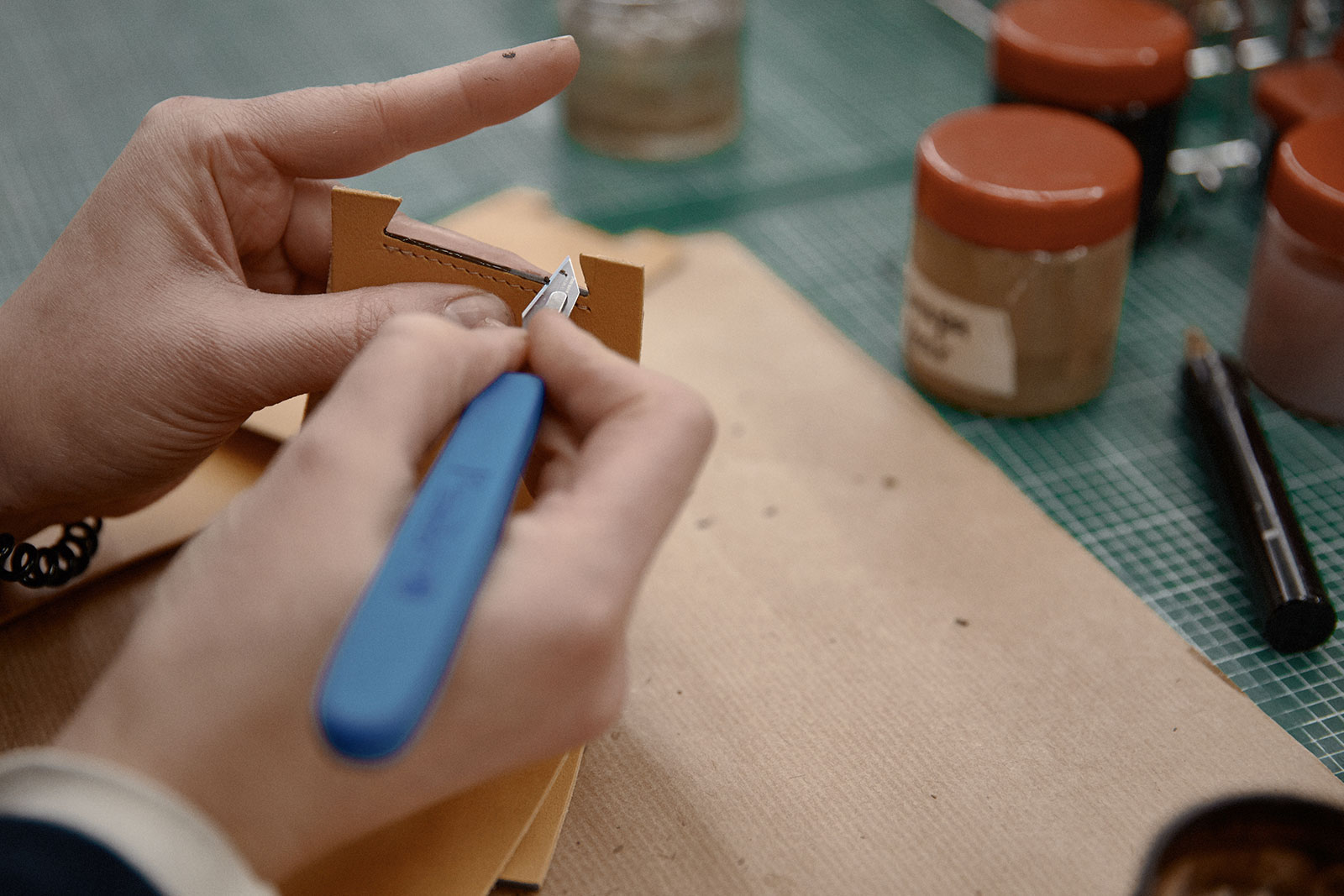 Eye for detail  |  Precise  |  Creative 
A Leather Craftsperson produces leather goods for a number of markets from sporting pursuits to high-end retail luxury goods, such as handbags luggage and lifestyle accessories. They need to have creative ability, precision and an eye for detail.
A Leather Craftsperson makes leather goods. They may specialise in one or multiple parts of the production process. They take cut leather components and form a finished product such as a purse, handbag or wallet. The process may include cutting, gluing, sewing, attaching linings, buckles, and eyelets and applying a finish, such as a stain, wax or polish. They may work with different types of materials such as cowhides, nubuck, chamois and suede and they will be responsible for the quality and finish of the end product.
Hand or machine sewing & product assembly
 Trimming and cutting leather
Quality checking finished leather goods​
Repairing or reworking leather goods​
This job may also be referred to as Leather Goods Maker.
A Leather Craftsperson can be employed by a large, medium, small or micro size business. They can be based in a design studio, workshop or on a factory production line, depending on the size of the business. The workplace is often bustling and productive. 
For a typical working week of approximately 39 hours:
A Leather Craftsperson's starting salary on average is £19,500-£23,000 per year
An experienced Leather Craftsperson's salary on average is £26,500-£32,000 per year.
Pay rates vary depending on experience, location and company. Additional benefits may include product allowance and discount schemes, pension and health care, cycle to work and tech schemes, company events, holiday trading and many more. Some companies offer overtime and the opportunity to earn an additional bonus.
Will you need qualifications or training?
Experienced is preferred, however some employers will offer training to new Leather Craftspeople and qualifications are not required. Training is delivered on the job. 
A Leather Craftsperson Apprenticeship is also available for those wishing to train on the job.
Qualifications and short courses relating to the making of leather goods are offered by a number of awarding organisations and training providers.
What are the career prospects?
There may be opportunities to become multiskilled and to develop into leadership positions within this role, pay increases are awarded to reflect this progression.
Typically a Craftsperson will need to build their experience and understanding of production to a competent level as well as demonstrate leadership qualities to be able to progress into a Team Leader role. Team Leaders may decide to move on to become a Supervisor in the future.
Other progression opportunities within this industry include moving into Training, Product Development, production office roles such as Planning, Quality Control and Inspection.
Self-employment and freelance work from home is also an option for a Leather Craftsperson with significant experience.
Set within an industry steeped in tradition, the leather trade supports the pursuit of excellence in its traditional craft skills whilst also embracing innovation and technology. The leather craftsperson is a fundamental occupational role in the leather trade. 
The leather sector contributes over £700 million to the British economy and as well as world renowned designer handbags and accessories we make leather products used in airplanes, sport cars and the equestrian world.
Wage information correct at date of editing, March 2023.
This website uses cookies to improve your web experience.