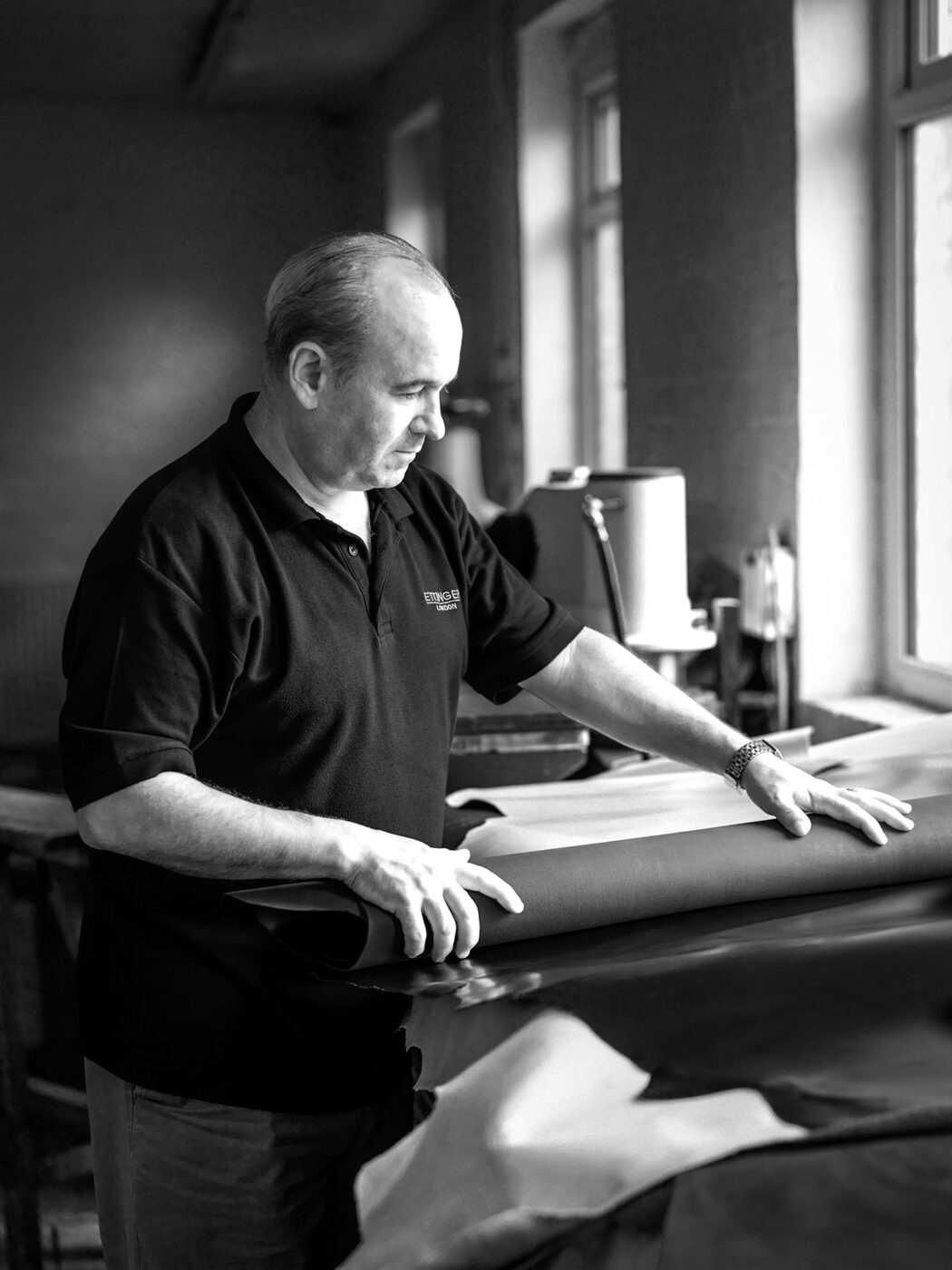 Gary Billingham | Ettinger
Gary Billingham joined the Ettinger factory aged 16 and has worked his way up over the past 40 years. With a wealth of experience under his belt, today Gary is the factory manager and the company's main pattern and sample maker. He plays a central role in the development process and loves starting with a blank page to create a luxury quality product that sells.
GARY BILLINGHAM | factory manager at Ettinger
Ettinger leather goods are made to the highest quality standards in its factory in Walsall, using skills and techniques that have been passed down for generations. Gary runs the Ettinger factory, formerly known as James Homer Ltd, which was established in 1890 in the northern outskirts of Birmingham.
Gary joined James Homer, where his mother worked as a press cutter, in 1979 in a temporary role but quickly discovered he had an aptitude for working with leather.
"I had good attention to detail and my eyesight was good so I made a great start. I was amazed that it could take 20 to 30 different cuts to make one wallet."
"I liked the working environment and as I lived locally, my boss started giving me the keys to open after about six months and then started to teach me the ropes. I began learning how to calculate prices and sort out the materials and over the years I have had a go at every process in the factory. Other than working on the sewing machines, which I have tried but I don't really like, I've done everything else.
I was taught how to pattern cut and understand technical drawings and diagrams. It took me years to learn and I'm still learning now. After eight or nine years I became a manager and I was introduced to Robert (who took over from his father Gerry to run Ettinger) in the 1980s."
Ettinger worked with James Homer for many years before eventually buying the factory in 1999. When Ettinger took over, the leather goods brand raised production standards in order to meet international luxury standards and has continued to invest to maintain and upgrade the factory over the years, as well as to train staff.
"You work for the marketplace you're in and when we started to work for Japanese customers, the quality was out of this world. We did things we had never done before and in new ways to get a new level of perfection.
When you make things predominantly by hand and with natural raw materials, like we do, there are always small variances. But Japanese customers only like the best quality and consistency The level of quality is what we are known for. That means starting with the very best raw materials that you can and ensuring an incredible attention to detail right through the process, every time."
Gary loves developing new ranges and using different materials, and working on collaborations with a variety of brands and partners. His role will see him transform a 2D drawing (or sometimes nothing more than a small description over the phone) into a working 3D model by creating all the necessary parts of the item. These parts are generally made of cardboard first and then hand cut in leather.
"Our production evolves with subtle changes and refinements but it is also about reinventing our signature styles. We started to use a goat skin leather which we haven't used for 30 years.
My role is about seeing what a designer wants and making that a reality, interpreting their vision and transforming it into something that actually works. I get a real buzz out of that, starting with a blank page and creating something that sells."
Gary says the way Ettinger produces its collections has fundamentally stayed the same over the years, with many of the processes still completed by hand.
"The machinery has improved. The presses are hydraulic now and the sewing machines are more efficient but mainly we have been making small changes and refinements to the way we do things, which is what we do best.
What has changed things significantly is digital communication. When we're developing new products, we can take a picture and send it straight to the head office in London or a customer on another side of the world, to check that's how they are expecting it to turn out. It sounds silly but sometimes with the colour of cottons we use, it can be better to be a shade lighter or darker than the leather instead of properly matching it. Now you can make those changes and get feedback instantly."
As factory manager, Gary is also focused on attracting new younger workers into the company, in order to ensure these specialist skills are passed down the generations.
"We operate an apprenticeship scheme and we've had a couple that haven't worked out but many that have, including our most recent apprentice who has been fantastic. It's a rewarding, varied and creative career but you have to really want to do it."
In 1996, in recognition of the work carried out for the Royal Household, Ettinger was appointed with a Royal Warrant to HRH the Prince of Wales.
"When we received the Royal Warrant, that upped the ante somewhat. Our products have to be absolutely top notch because when you see that, it really means something."
 "One thing I enjoy doing is taking production staff down to see some of our stockists like Fortnum and Mason to see our products on sale. It's about understanding how much people pay for our products and seeing them in that setting, but also appreciating how much they look after them. We need everyone to be in the mindset that each product must be of the utmost quality and will be cherished for years to come.
This job has allowed me to work around the country, in London and in Europe. Our products are sold in some of most prestigious stores around the world. We sell to well over 30 countries and we're doing a lot more now in China, South Korea and the Middle East. Robert and Ettinger are great at spreading the net. But I'm sat in the factory and I can see the house where I was born. I came to help out for a few weeks and now I'm still here 40 years later. There's definitely something in that."
This website uses cookies to improve your web experience.