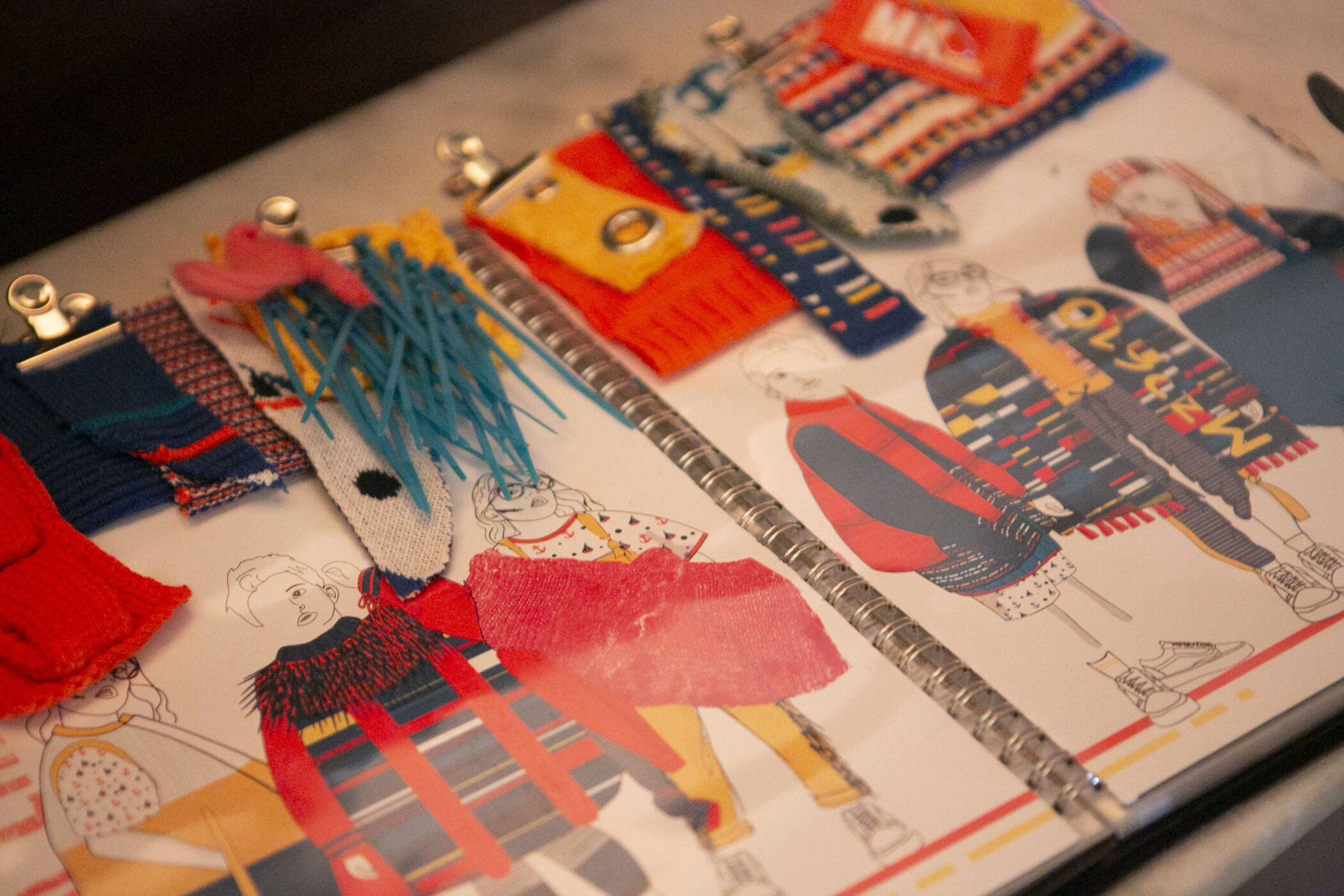 Meet UKFT's Education Partners
UKFT works with universities, colleges and training providers to ensure the next generation of talent is equipped with the very latest skills for industry.
UKFT's Education Partners provide a broad range of training and education to help you get where you want to go in the fashion and textile industry.
Read on to find the place for you.
The University of Bolton is dedicated to fashion design and realisation with a commercial edge, embedding sustainability and ethical design practices into our thought-provoking modules.
Working closely with industry and responding to contemporary creative practices, they help students develop as independent individuals ready to work in their chosen career path. Bolton offer several pathways including BA Hons Fashion 3-year programme, BA Hons Fashion part time programme, BA Hons Fashion with foundation year 4-year programme and BA Hons Fashion Top-Up year.
University of Westminster
The University of Westminster has a world-class reputation for producing both highly creative fashion designers and commercially minded fashion business professionals. 
Design graduates include LFW designers Robyn Lynch, Roberta Einer, Claire Barrow, Liam Hodges and Ashley Williams, as well as Stuart Vevers, Creative Director of Coach, and Christopher Bailey CBE, former Chief Creative Officer of Burberry. Fashion business and marketing graduates can now be seen in senior roles in global leading fashion and retail marketing businesses.
Istituto Marangoni London
Istituto Marangoni aims to offer the highest-quality educational experience, benefiting from both its international network, which keeps growing with new openings in emerging capitals of fashion and design, and the fruitful cooperation with industry professionals.
The schools constantly update their educational offer, in line with the latest market trends and demands, and mentors students and alumni who are starting their career in the fashion and design industry.
Winchester School of Art​
Winchester School of Art (WSA) are proud to be a leading UK art and design institution within the world renowned University of Southampton.
The Fashion Design & Textile Design programmes offer industry standard teaching with traditional facilities alongside the latest digital technologies. Generous space and resources and a 'learning by doing' approach produce graduates who are equipped to work in a range of prestigious companies in the UK and internationally.
The University of Leeds is one of the largest higher education institutions in the UK and part of the Russell Group of world-class, research-intensive universities. The School of Design specialises in Undergraduate, Masters and Research Degrees in Textile Sustainability & Innovation; Polymers, Colorants and Fine Chemicals; Sustainable Fashion; Fashion Design Innovation; Global Fashion Management and International Fashion Marketing & Design Management.  
Teaching is informed by work in the Leeds Institute of Textiles and Colour (LITAC), a world-leading research institute with a 150 year history of research and innovation. 
Morley College London – Chelsea Centre for Creative Industries is a specialist centre dedicated to the development of Design, Art, Media and Technology practice with a long-established Design department offering skills driven learning for adults and young people in pattern cutting, millinery, design and tailoring across our three floors of specialist fashion and textiles studios.
Located in Chelsea, just off the Kings Road, we are led by industry professionals, as part of a community where collaboration and innovation are at the heart of what we do.
Don't forget about short courses!
Many institutions offer a great range of short courses. These can be a really good way of starting to develop your skills and adding to your experience.
The award-winning School of Fashion and Textiles at De Montfort University Leicester (DMU) offers a unique range of future-facing courses covering practice, communication, buying and management, including the specialist areas of footwear and contour fashion where we are recognised as world leaders.
Taught by highly experienced staff in state-of-the-art facilities, our curriculum is shaped by contemporary culture, industry practice, digital innovation and sustainability.
London College of Fashion​
London College of Fashion, UAL, leads the world in fashion business, media, and design education. Based in London, we offer one of the widest ranges of courses in fashion education, with over 60 undergraduate and postgraduate degrees and 165 short courses.
We encourage students to develop inventive, assertive ideas that challenge social and political agendas. And we give them the skills, opportunities, and freedom to put those ideas into practice.
Nottingham School of Art & Design​
Nottingham School of Art & Design at Nottingham Trent University are catalysts of change at the heart of a vibrant city. With roots dating from 1843, we nurture the best creative and digital talent, and push the limits of creativity to innovate and make an impact on the world.

Our established portfolio of award-winning design and business courses in fashion and textiles opens doors to career opportunities across the supply chain, from design, manufacturing and technology, to analytics, digital futures, management, marketing and branding.
Caramel Rock is a fashion education charity that provides training and job opportunities.
We focus on empowering and supporting young people to access a career in the fashion industry.
We provide services for people of different academic levels and age groups, including young students on the verge of being expelled from school and seeking an intervention with our creative approach.
Glasgow Clyde College offers a wide range of full-time and part-time fashion and textiles courses, from NC to HND and associate Degree level. 
GCC are the only Scottish institution to deliver HND Fashion Design and HND Fashion Technology and the only Scottish institute to offer all 4 textile disciplines – print, weave, knit and embroidery. 
GCC are also proud to now offer HND Fashion Communications.
The Tailoring Academy delivers the ultimate UK tailoring training to the next generation of bespoke cutter and tailors. We strive to educate independent, fully-rounded craftspeople by providing them with the full set of heritage craft skills in a modern learning environment.
"The Tailoring Academy is the benchmark for Bespoke Tailoring education and this should be celebrated as the exemplar in the UK." Alan Cannon Jones MSc. F.FCDE, Chairman of the Judges of The Golden Shears competition.
Gower College Swansea is a large further education college delivering the highest quality of education and training that inspires and supports learners to achieve their full potential. 
With seven campuses across Swansea and approximately 13,000 learners per year, the College offers a wide range of full-time and part-time courses, including 40 A Level subjects and 40 vocational subject choices, alongside higher education courses and apprenticeships. 
Within the High Wycombe campus, the Red Shed studios provide Bucks New University fashion and textile students an opportunity to develop traditional and contemporary specialist skills in parallel.
Core teaching aims to extend their ability in creative pattern cutting and design for a wide range of products including, knit, woven and alternate fabrics whilst working to external briefs and in partnership with industry.
Fashion Technology Academy
Fashion-Enter (FEL) is an award winning not for profit, social enterprise and centre of excellence for sampling, grading, production and learning & development within the fashion industry.
The Fashion Technology Academy (FTA), part of FEL, is an ESFA approved college providing accredited, quality qualifications and Apprenticeships levels 1 to 5. Learners and brands have the opportunity to learn informally with the Saturday Stitching Surgery or undertake professional qualifications from SEG Awards at sites in Islington, Haringey, Wales and Leicester.
Looking for Apprenticeship opportunities?
You can contact training providers about what they have available as well as search for Apprenticeship vacancies.
Key Training & Learning Ltd. support the skills and training needs of the fashion and textile manufacturing industry. They pride themselves on quality training and high achievement rates as part of the supply chain for lead providers, local government and the Prison Education DPS. 
KTL offer workplace training including accredited or tailored courses within manufacturing companies, prison workshops and the Derby Sewing Studio. Courses range from beginner to advanced level in textile production, sewn products, laundry operations, leadership and manual handling.
The School of Textiles and Design at Heriot-Watt University is a renowned higher education institution based in Galashiels in the Scottish Borders.
Established in 1883 the school historically specialised in Textiles, today it has a strong focus on innovative design with subjects such as Communication and Design, Virtual and Constructed Environments, and Fashion and Textiles led by pioneering academics and research.  
WEPT Project (Women Empowerment Project & Training) is a social enterprise based in West London creating and administering projects that aim to promote empowerment.
WEPT has a dedicated focus on workforce development packages and capacity building by providing industry specific learning and development for skills within the fashion and textiles industry.
A range of training is offered including NCFE and SEG accredited qualifications and Apprenticeships across levels 1, 2 and 3.
Textile Centre of Excellence
The Textile Centre of Excellence is the largest provider of textile & fashion apprenticeships in the UK. Based in the heart of the textile manufacturing industry in Huddersfield, the business has been delivery high quality, nationally accredited training to textile business for nearly 50 years. With over 100 textile manufacturing members, the Centre's courses cover traditional textile job roles such as carding, spinning, warping weaving, dyeing and finishing, as well as fashion, sewing, cutting, grading, garment making and business services. The company employs a team of industry Tutors/Assessors to deliver programmes both on and off site, across the whole of the UK.
Westminster Kingsway College
Westminster Kingsway College has a rich and proud history of delivering high quality vocational education in a range of creative spaces, now to include Fashion apprenticeships.  
WKC is well resourced with dual professional teachers and fantastic industry standard facilities all based in the heart of London. At WKC you will be studying alongside creatives across many design disciplines giving you the opportunity to contextualise your work and be inspired by other students. We are a thriving and diverse community of students and staff. 
This website uses cookies to improve your web experience.