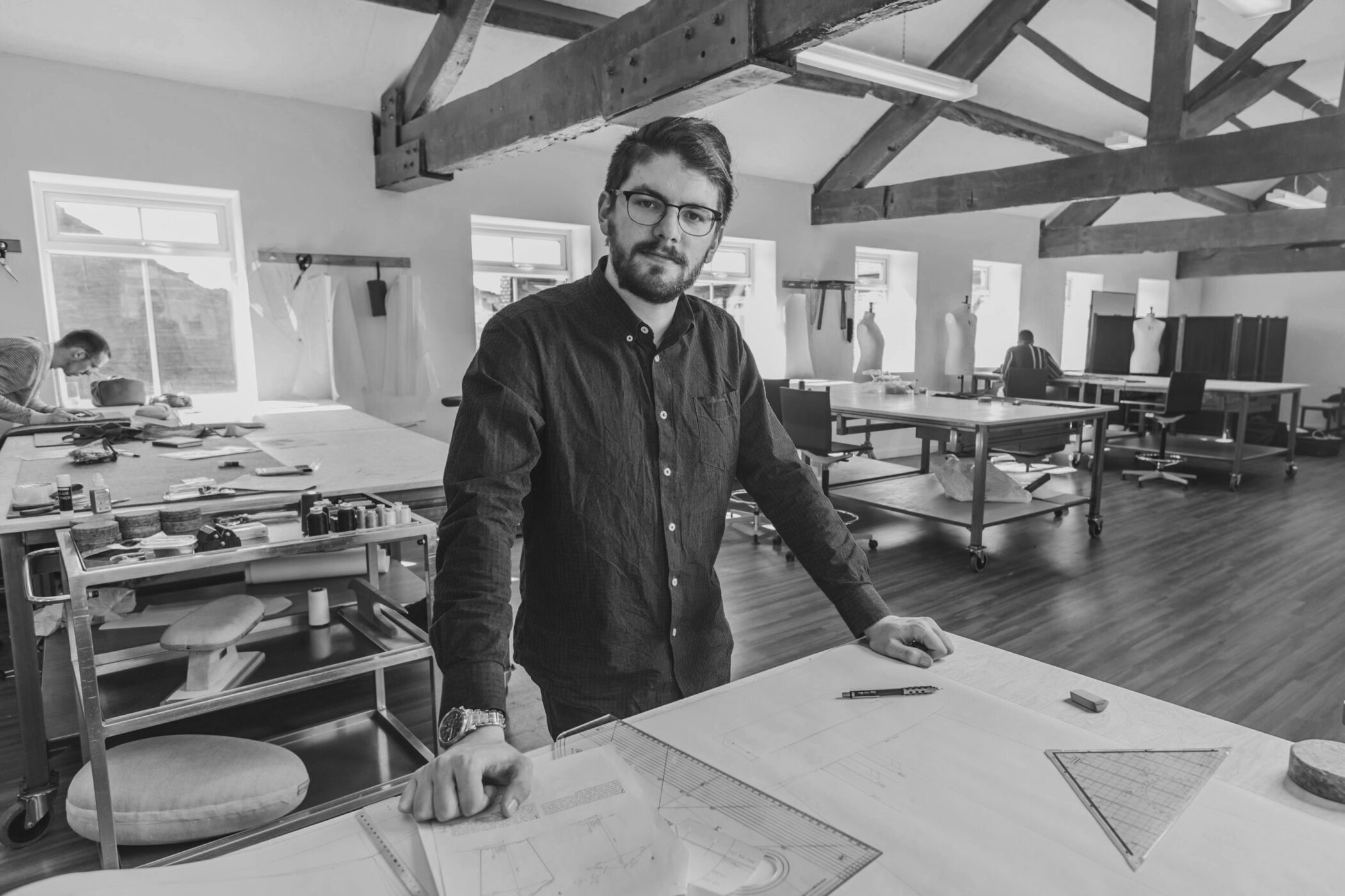 Quentin Felix | The Tailoring Academy
Quentin Felix left his job as a robotics engineer in Switzerland to take up a level 5 Apprenticeship in bespoke tailoring at The Tailoring Academy in Macclesfield and is now passing on his knowledge and experience to new budding tailors.
QUENTIN FELIX | Co-Trainer at The Tailoring Academy
Prior to taking up the apprenticeship, Quentin studied engineering for six years, in both France and Germany to achieve a master's degree, and worked for two-and-a-half years in Switzerland.
His interest in sewing started at an early age and he commandeered a sewing machine at home that no-one else in his family could use. He taught himself to use the machine, through a combination of technical patterns, online tutorials and trial and error before coming across Brita Hirsch, founder of Hirsch Tailoring on Instagram.
Before leaving his job in Switzerland Quentin joined Brita for a two-week-long tailoring workshop, after which she offered him the opportunity to become an apprentice at Hirsch Tailoring. He was one of the first to take up the level 5 Bespoke Cutter and Tailor Apprenticeship, which was developed by a group of tailoring employers alongside UKFT and the Savile Row Bespoke Association.
"This was the opportunity I was waiting for to change career. If you never try, then you never know. At first I wasn't sure if I was going to like it but luckily I loved it."
"I ended up working on actual commissioned garments and Brita trusted me to meet her high standards. I liked being in charge of the drafting of small features such as pockets flaps, patch pockets shapes or straps. It is a great feeling to see these details on the finished garments before sending them away. I love using my hands to make garments from start to finish."
Quentin is now combining his two passions – creating garments and passing on his knowledge and experience to new students following in his footsteps. He works alongside Brita as a tailor for Hirsch Tailoring, and assistant trainer for the Tailoring Academy.
He finds the transformation process of tailoring really rewarding.
"It comes in as a bolt of fabric and goes out as a finished garment. It's great to see something you have worked on bring joy to the customer – I love it when they say they want to go home wearing something you have created."
"Each commission is quite an adventure for both me and the customer. It's a long process and as most of the work is done by hand, we are so close to the garment. One customer recently came back in for a repeat order and he was wearing a jacket we'd made for him, which felt really good to see. You feel attached to the garment even though it's not yours.
Having both parts to this role is something I wouldn't be able to have in many places and I feel really grateful to be able to do that. Through the training, I love passing on something that I am passionate about.
I came to the Tailoring Academy because I wanted to learn and the new students are here because they want to learn too. It's not like maths where you have to learn it at school. No-one is making you do it, and it is great to interact with people who share your passion."
This website uses cookies to improve your web experience.